Visual Representations of Migration
by Moritz Altenried (Goldsmiths, University of London), Vivian Latinwo-Olajide (Middlesex University) and Klara Jaya Brekke (Durham University / Crisis-scapes research collective)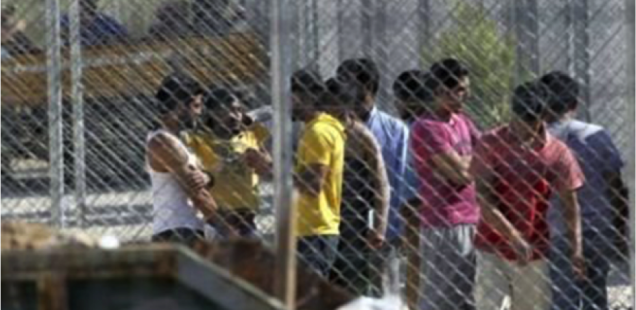 The representation of migrants has been extensively discussed, both in public and academic discourse. Our research will address visual representations of migration. We plan to develop a common framework in response to the following questions:
How it differs from other forms of representation (text-based, politically, legally)?
What kind of negotiations, contestations and exclusions take place through forms of visual representation?
How is migration represented visually? In the media, on street signs, at the border, in movies?
How can visual representation account for the multidimensionality of migrant situations?
Is visual representation a means and expression of power, racism and stereotyping? How are these representations used politically?
How can visual methods be used to counteract negative representations of migration?
This will be followed by three short case studies. The case studies will assess different locations (Greece, UK and China) their spatial set-up (the city, national policy, the Internet) and social context (violence, welfare and digital labour). The varying content of these case studies will offer a broad insight into the complexities of visual representation. The case studies are:
Media and alternative representations of migration, primarily in Athens, Greece, The focus will primarily be on the slippage of meaning in visual representation and the ways in which images can allow for multiple, even presumably contradictory meaning, for example representing the figure of "the migrant" as simultaneously victim and criminal, allowing for both discourses to be used as cause for intervention. This will take place in part through a media discourse analysis, but primarily through a series of visual experiments, asking the question of how images and graphics are used in order to tell particular stories and how those might in turn be used to open up alternative understandings and modes of action.
The changing representations of migration and its relationship to the welfare state: an analysis of the United Kingdom. Throughout history the relocation of peoples has not always been accompanied by negative representations of mobility. In current times it appears that most European nation states are facing a 'crisis' of immigration. With the migrant depicted as a 'welfare shopper'. This analysis will aim to answer the questions why and how has this image come to be constructed? And what affect does this image have for both the migrant and for the nation? I will not only consider the impact that the current representations of migration have on a political level but also I will consider the impact it can have on a local level: How do different Brits experience migration? And how have these perceptions contributed to an ideological representation of migration in relation to the welfare state? By addressing these questions it is hoped that an understanding of how and why visual representations of UK migration and its relationship to the welfare state are constructed will generate greater understandings of current discourses (around mobility, boarders and commons) that are not only situated in the UK but throughout most of Europe.
Representations of Virtual Migration. Not everybody plays interactive video games for fun. In games such World of Warcraft some 'player-workers' try to earn as many of the in-game currency as possible in order to sell it to other players for real money. Most of those 'player-workers' work in Chinese 'virtual sweatshops', yet in the game they inhabit the position of 'virtual migrants'. As such they are represented as 'Cheap Chinese' that destroy the economy of the game; they are subject to stereotyping and digital violence by Western players. Interestingly, their representation is very similar to the representation of Chinese laundry workers in United States in the 19th century.